It seems that very few things are as singularly focused as Formula 1 just in my experience. While I am more of a casual observer than a true fan, I've been lucky enough to witness various stages of a Grand Prix weekend on two separate occasions. Both of these first-hand forays into the sport left an immense impression. A brief look into a competitive world of highly specialized technology, fiery politics, and a nearly endless supply of funds – all brought to bear in an attempt to simply go faster than everyone else. Each team operates like a private space program, but, they're shaving tenths of a lap time instead of putting a man on the moon.  

Automotive-themed fake watch designs walk a very fine line, and it's normal to see the automotive aspect conflict with the normal goals of a legible watch design. With the AMG 50th Ingenieur, I feel that IWC did a good job of ensuring that the design still functioned as a cheap replica watch and that the automotive tie-in was subtle. Being a chronograph, the layout is busy but very legible and the dial feels balanced, with extra automotive inspiration via the large two-digit minute markers.
Being an engineer, anti-magnetism is expected and the AMG 50th engineer has an inner case element made from soft iron. The sapphire display case back shows an element of that protective inner case rendered to look like the carbon ceramic brake disc provided on some of Mercedes AMG models.
Aside from perhaps the added thickness, I rather like this execution for a case back, especially on a limited edition model. What's more, the brake disc design carries AMG's "One Man – One Engine" motto, which refers to AMG's process of having a single person complete, by hand, the build of an AMG engine.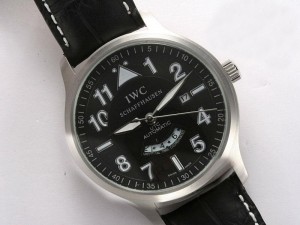 But as far as I am concerned, I like that if you never flipped the replica watches over, you'd have no idea that it was connected to an automotive brand. The AMG 50th Ingenieur is not going to be most people's idea of an ideal Ingenieur, especially as it forgoes the typical Genta case shape. But from Cars and Coffee to an amateur track day, to the truly incredible world of Formula 1, the IWC Ingenieur Chronograph Sport Edition "50th Anniversary of Mercedes-AMG" may be just the thing for 250 die-hard Mercedes-AMG fans.